inPower
Electricity is provided by Georgia Power and Amicalola Electric and is distributed locally by both utilities distribution system.
Gilmer County is part of 230 modern redundant line integrated electrical transmission system with reliability service using redundant transmission.
Georgia Power and Amicalola Electric  offer competitive rates and incentive programs with excellent ability to supply industrial demands.
Water & Sewer
Water and sewer service is provided  by  Ellijay-Gilmer County Water & Sewerage Authority.
Water
The Authority currently has approximately 1 to 1.5 million gallons of water per day in excess capacity.
Average use fluctuates from 2.8 to 3.1 million gallons per day.
Sewerage
The Authority currently has approximately 2 million gallons per day of excess capacity at the Wastewater Treatment Plant.
The plant through a recent upgrade, was built to treat 4 mgd.
Current flows being treated average from 1.7 mgd to 2.1 mgd.
Natural Gas
Atlanta Gas Light is proud to be a part of the north Georgia community and provide natural gas service on behalf of certified marketers to the thousands of people who call the area home.  
We are pleased to share that we are expanding our infrastructure to bring clean, efficient, reliable natural gas to additional areas of Gilmer County as part of the Georgia Strategic Infrastructure Development and Enhancement Program, or STRIDE.  
Just as importantly, this new pipeline will also support local economic development.  In December 2015, the Georgia Public Service Commission approved our investment in the Gilmer County Pipeline to extend our infrastructure to serve customers without natural gas.  
The new 8-inch pipeline will run approximately 11 miles beginning at an existing pipeline on Progress Road and then going southeast along Yukon Road through the City of Ellijay and into East Ellijay before heading east on Clear Creek Road until its end point at Highway 52.  
A regulator station will be installed along the route to provide natural gas to a new 6-inch pipeline on Sunset Lane.  Regulator  stations allow for pressure adjustments in the system.
Advanced Telecommunication Support
ETC Business Solutions  can provide your business with the best communications network so you can run your business smoothly and efficiently. 
Gilmer County offers great connectivity, reliability, and overlap necessary to allow all businesses or shared service center clients to thrive.
ETC provides:
Managed Services
Data Network Solutions and IT Outsourcing
Business Class Internet (Cable Modem or DSL) and Ethernet (Fiber)
Voice/Phone Solutions
SIP, PRI Trunking
Business Telephone Solutions & Systems
VoIP
Virus Protection
Online Backup
Business Security Systems & Camera Surveillance
Professional Services Group to handle your Telephone Systems & Data Networks
Sell, install and main Cisco, Sonicwall, Juniper, Alcatel-Lucent, Dell and HP equipment
Gilmer County offers telecom and broadband service comparative to much larger metropolitan areas.
Transportation
Gilmer County is conveniently located 77 miles north of Atlanta, and 67 miles southeast of Chattanooga, TN.  
The area is easily accessed via four lane Georgia Highways 575/515, US 76 and Georgia Highway 2, 5, and 52.
Atlanta's Hartsfield-Jackson International Airport is only 88 miles from Gilmer County.  
Local Airports include Gilmer County Airport and Blairesville Regional Airport (38 miles).  The area is also served by local freight carriers.
For additional information please contact the Greater Gilmer Joint Development Authority at 706.635.7450 or director@greatergilmerjda.org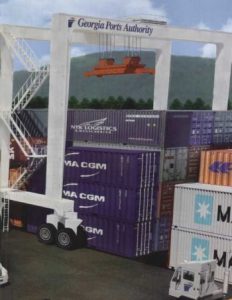 Appalachian Regional Port in Murray County located 30 minutes from Gilmer County will open in 2018.
The new inland port sits on 42 acres in Northwest Georgia's Murray County and feature on-terminal rail.  
The site is adjacent to U.S. 411 and features easy access to Interstate 75.  The facility will handle import, export and domestic cargo.
Governor Nathan Deal, the Georgia Ports Authority, Murray County and CSX Transportation signed a Memorandum of Agreement July 28, 2015 establishing the Appalachian Regional Port.  Its service area will include North Georgia.
"This new inland terminal will open the door for economic opportunity and job creation for Northwest Georgia and the region."  said Governor Deal.  "By providing a direct link to the Port of Savannah, the Appalachian Regional Port will create and expand international markets for businesses, and further the economic success of the Southeastern United States."
Port officials estimate the CSX rail route will reduce Atlanta truck traffic by 40,000 moves annually, creating a new intermodal option to and from the deepwater Port of Savannah.  Each container moved by rail to the Appalachian Regional Port will offset 355 truck miles on Georgia highways.
The Appalachian Regional Port will opened in 2018 with an annual capacity of 50,000 containers.  A 10-year development plan will then double that capacity.